Commercial Dishwashers from Hobart
The most recognizable name in foodservice equipment, Hobart is also leading the way with highly efficient commercial dishwashers, most of which are ENERGY STAR® certified. They offer seven different types of dishwashers for every application in the kitchen.
Hobart Advansys Models combine the newest technologies with everything you love about your current Hobart dishwasher to help reduce energy and water costs, labor costs and chemical costs. In short, Advansys machines help reduce total cost of dishmachine ownership. Hobart Advansys machines have also been recognized by Kitchen Innovation Awards, What's Hot! What's Cool! Award, FCSI Innovative Product of the Year as well as Best In Class by Food Equipment & Supplies.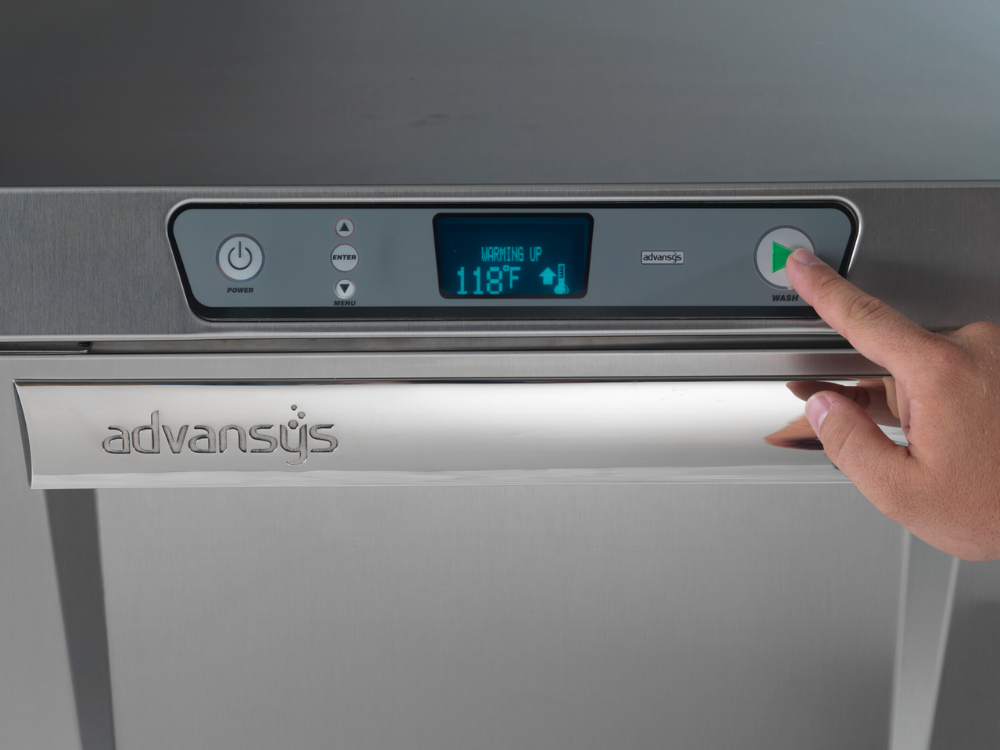 The most commonly purchased style because of their versatility and space saving, undercounter dishwashers can be used both behind the bar and in the kitchen. Hobart offers models from the Advansys LXe and the LXe series, both of which are ENERGY STAR® certified. Only the standard LXe model is available in high-temp (hot water sanitization) and low-temp (chemical sanitization). While both options are excellent, the Advansys line offers a few benefits that the LXe doesn't.
Advansys Benefits vs. Standard LXe
- 3 cycles to choose from (light, normal, heavy)
- 0.62 gallons of water per cycle vs 0.74
- Steam Elimination and Energy Recovery
- Snap-in Rinse Arm and Auto Delime Cycle
Hobart's Advansys Ventless door-type dishwasher is the first high-temp, ventless, door-type dishwasher featuring Energy Recovery. The recovery cycle captures water vapor and condenses it to heat the incoming cold-water inlet for the final rinse cycle. This process allows you to save up to $1,568 a year in water and energy costs. Eliminating the need for a ventilation hood makes the AM Select Ventless easy to install. Since there is no vent, there is no need for ductwork for the ventilation hood, saving you approximately $3,500 in vent installation costs.
Features:
- Sense-a-Temp booster heater technology is capable of delivering a 70° F rise in rinse-water temperature and ensures a safe and consistent 180° F sanitizing rinse.
- Delime notification
- 1, 2, 4, and 6 minute wash cycles
Hobart CLeN conveyor type washers use less than half the rinse water and half the energy compared to models without it, saving kitchens more than $9,000 a year. ENERGY STAR® qualified, CLeN washers are an essential component of any sustainable foodservice operation.
In medium- and high-volume operations where the dishes keep on coming, the racks have to keep rolling. Fortunately, kitchens can trust Hobart reliability and dependability. In fact, Hobart commercial dishwashers have the highest documented uptime in the industry. Constructed of stainless steel, CLeN washers are built-to-last, saving energy, water and money for years.
Features Include:
Drain Water Energy Recovery - DWER transfers heat from drain water to the incoming cold water, saving up to 20% on energy to heat rinse water, and reducing water for drain water tempering up to 90%.
ASR - Automatic Soil Removal keeps your water cleaner longer.
OPTI-RINSE™ TECHNOLOGY - patented rinse-arm spray pattern creates large droplets to more efficiently sanitize the ware.
Your customers expect more from their drinking and dining experiences these days, as they fill their glasses with craft beers, handcrafted cocktails, boutique wines and specialty nonalcoholic beverages. Now you can rest assured knowing that nothing will get in the way of your customers enjoying the pure taste and care you pour into every glass. The all-new Advansys™ LXGe glasswashers clean and sanitize glassware, leaving behind no chemical residue.
Both the LXGeR and LXGePR glasswashers are ENERGY STAR certified with easy, one-button operation and a special "Soft Start" feature that helps protect glasses from chipping and breaking. With two available heights, compact design and high-end appearance, the Advansys LXGe glasswashers are an easy fit--even in the most exclusive establishments.
The Hobart FT1000 Advansys Flight-Type Dish Machine: a unique dishwasher, built with the performance and quality standards customers have come to expect from Hobart. Equipped with an Energy Recovery system designed to turn exhausted heat into a way to heat incoming cold water, the FT1000 Advansys saves heat and energy. It has been designed for the lowest total cost of ownership and improved care and operation across all six elements of warewashing performance—cleaning, life cycle, chemicals, soil management, labor and utilities. With patent-pending technology, the FT1000 Advansys boasts up to $26,000 in annual savings over previous Hobart flight-type models.
As in-store bakeries, delis, produce and meat departments, and other commercial food-prep environments expand their offerings and operations, demand is increasing for tools focused on your unique needs. Foremost, among them is the need for washers that accommodate these fast-moving food-prep environments.
The Advansys line of Hobart prep washers is designed to improve cleaning performance, decrease energy usage and environmental impact, lower labor costs, and optimize chemical usage and water quality. Available in 10 and 20 pan capacities, our money-saving prep washers are ready to tackle your operation's needs.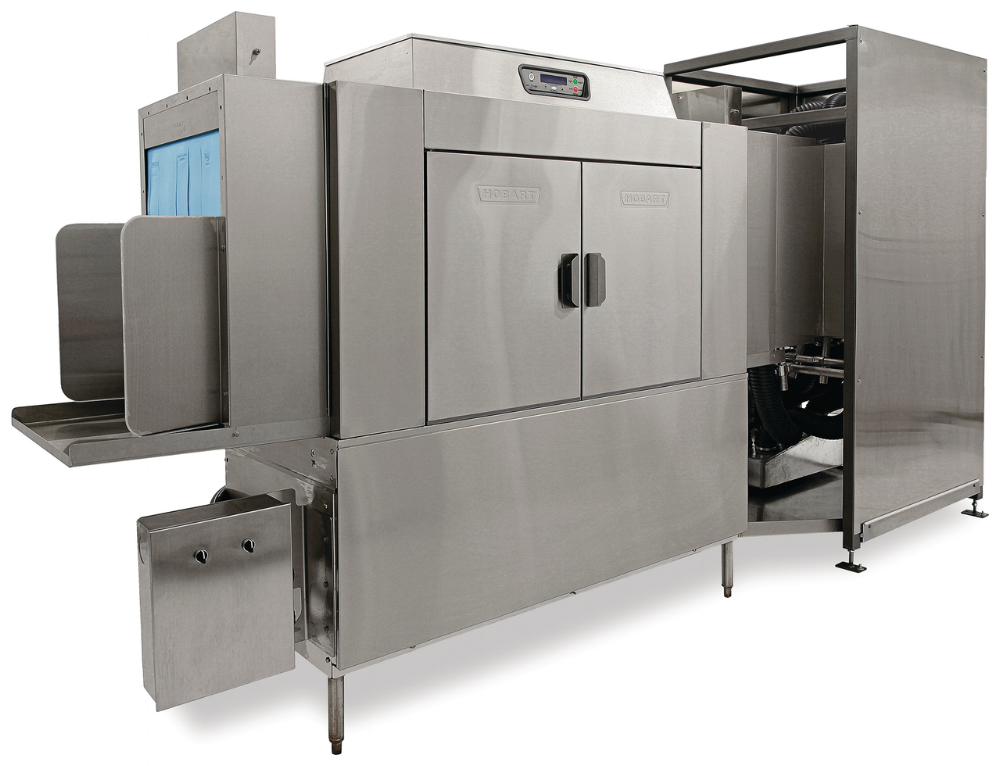 Manufacturing environments today require highly efficient sanitation processes so they can focus on greater productivity for the business. With many types of material handling products needing to be washed, at all different shapes and sizes, it's become even more important to meet these demands with automated washing solutions. Hobart's industrial washers deliver the sanitation you require, all while conserving energy and saving your operation money.
If you're looking for a flexible, multi-purpose washer, the CL64T Tote Washer is the perfect machine. Desiged to deliver a thorough clean to custom parts, it's ready to tackle your operation's throughput demands.
For the busiest of operations, the FT1000i washer can be customized to a variety of material handling products. Engineered to meet the demands of high volume operations, it delivers a powerful wash, with powerful savings.
Both the CL64T and FT1000i are customizable and come with options like the high-pressure blow-off and energy recovery systems.